Classic &Trulyou Portraits
To paint a portrait is to accept an invitation into someone else's world to capture their unique spirit in a work of art.
—Lisa Downey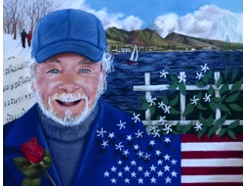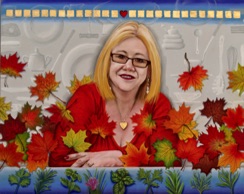 George
Pattie asked me to create a portrait of her late husband, George, from a photograph. I interviewed Pattie to get an idea of what George was like and what he meant to her.
Having served as a Captain in the US Navy, George was beloved by the sailors under his command in Viet Nam. The stars from the flag which turn into jasmine blossoms represent those who did not come home. The jasmine was one of his favorite flowers, as it grew in the backyard of his and Pattie's home in New Jersey. The blossoms rise up into a landscape of west Maui, where they went sailing on vacation. The polar bear in the clouds represents Pattie's nickname for George. There are images of the two of them walking home on a snowy evening, and a sheet of music from his favorite song.
All TRULYou portraits have images based on an in-depth interview process designed by Lisa.
Mary
Mary grew up in Brooklyn, NY and is one of the sweetest people you'll ever meet. Discover the meaning behind the images in her portrait by watching this video.
All TRULYou portraits are created in pastel and come with a hardcover 5 x 5 inch booklet describing the images in the painting.
Capture more than the image, capture the memories.
All Classic Portraits are painted from
photographs taken by the artist.